Sinds vandaag zijn er een aantal nieuwe betaalmethodes beschikbaar door de integratie met Stripe. Wat betekent dit voor het betalen van je facturen? Alles wat je zou moeten weten lees je in dit artikel.
Wat is Stripe?
Stripe is een betalingsgateway van een derde partij en maakt het mogelijk om te betalen via bijvoorbeeld credit kaart of bankoverschrijvingen. Wanneer u een factuur van ons krijgt of iets via de website besteld ziet u een aantal extra betalingsmogelijkheden, waaronder Sofort (Bankoverschrijving), Ideal en Klarna.
Wat betekent dit voor betalingen?
De al bestaande betalingsmethoden zullen voorlopig beschikbaar blijven, er zijn geen plannen om daar verandering in te brengen. Er zijn nu dus een aantal extra opties bij gekomen om flexibiliteit te bieden. En we zullen dit nog verder uitbreiden als daar vraag naar is.
Ga ik deze verandering merken in de prijzen?
Ondanks dat aan deze nieuwe betaalmethodes transactiekosten verbonden zijn hebben we besloten om dit niet invloed te laten hebben op de prijzen. De prijzen voor onze diensten blijven het zelfde ongeacht welke betaalmethode gebruikt wordt, tenzij anders vermeld of afgesproken met de klant.
Hoe betaal ik mijn factuur?
Als je een account hebt in het klantenportaal, kan je inloggen op facturering.landdesigns.nl/client met je e-mailadres en wachtwoord. Heb je nog geen account? Neem contact met ons op, en we zullen het met je regelen. Je krijgt natuurlijk ook altijd de factuur via de mail.

Wanneer bovenin op de groene knop 'Betaal nu' klopt klikt zie je een lijst met de beschikbare betaalmethoden. Hieronder volgt een overzicht met korte beschrijving.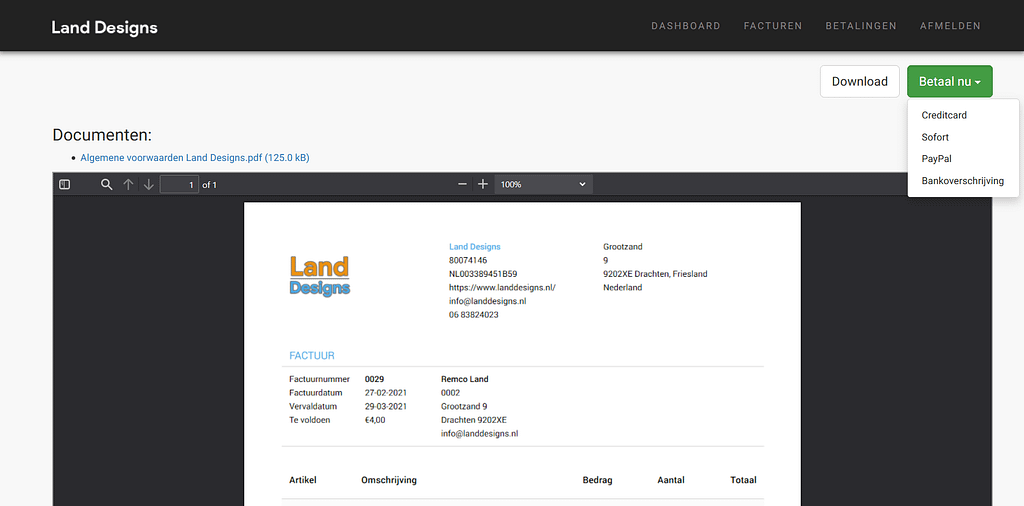 Naam
Beschrijving
Verwerkingstijd
Extra functies
CreditCard
Betaal via Stripe met je creditcard.
Ondersteunde kaarten: VISA, Mastercard, Maestro, American Express, Google Pay en Apple Pay.
Tot 3 uur
Automatische incassering, kaarten bewaren.
Sofort
Betaal met je bankrekening via iDeal met Klarna. Selecteer je bank, log in, en je hebt betaald. Makkelijker kan het niet.
Tot 3 uur
Het betaalgemak van iDeal
PayPal
Betaal via PayPal met je bankrekening, creditcard of PayPal saldo.
Tot 3 uur
Kopersbescherming van PayPal
Manuele Bankoverschrijving
Betaal door middel van een bankoverschrijving. Maak een overboeking naar NL32 SNSB 0268 9884 39 t.n.v LAND R K.
Vergeet niet je factuurnummer in de beschrijving te vermelden.
1-5 werkdagen
Gerelateerde posts: